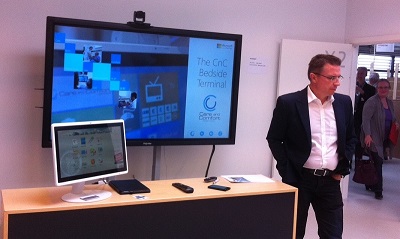 Clinifit and Care and Comfort were selected (with 11 others companies) to present their solutions at the Køge University Hospital (KUH) on the 16th of June. In order to specify its "innovative solutions equipment project", this hospital wanted to see a representative panel of the existing solutions actually on the market. Around 15 people (Danish hospital executives, etc.) were thrilled by our innovative convalescent room and its digital core, the CnC bedside terminal.
They showed a real interest in the Clinifit innovative and collaborative model. Each of the 8 industrial companies composing Clinifit have their own know-how and expertise in their respective fields. Thus, they can manage hospital projects (innovative rooms implementation, shift to ambulatory care, etc.) from their conception phase till their effective implementation (economical model included).
Care and Comfort had customized its interface according to the visual identity of the KUH (wallpaper, pop-ups, etc.). Furthermore, the fact that we strive to make our application the most accessible and user-friendly to any patient (domotics, headtracking, RFID card system that directly launches a specific functionality, etc.) has been especially appreciated by the panel.
For now, Clinifit will equip the KUH living lab with its patient chair bed and its 3-in-1 (armchair – sofa – bed) pull-out visitor bed.
About the Køge University Hospital:
The KUH is an extension of the existing hospital: its size will be tripled reaching 177 000m2 total surface, including 900 beds. The project will be carried out in 2020.