Added Values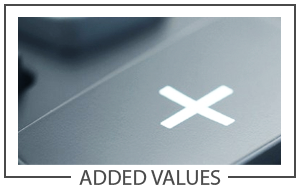 Quality
We have made the choice of a certainly innovating solution but that is integral part of a hospital room, an investment for the future (and not alike a "high-tech" fragile gadget). We have paid a particular attention to the hygiene and security problems in providing you a solid terminal, each element of which is separately guaranteed, entirely certified and compliant to the European and French laws.
Project management:
The Care and Comfort project, as of its conception phase to its practical implementation, is built by our teams, jointly with your establishment and our partners.
Integration facility:
Our software is based on Microsoft technology. Hence, it can be easily integrated in the already existing information system architecture of the hospital.  On the other hand, all updates are centralized that allows updating the park by a few clicks. These are significant advantages, particularly for the establishments wishing to equip a large number of beds.
For example, in Lille, 2 000 terminals are operating and are part of the 15 000 computers park.
Updating and Customizing:
The software may be updated in time.
In the conception phase, the hospital may select only part of the applications proposed by Care and Comfort and then further select others without needing to reinvest. Moreover, the establishment may update itself a certain number of elements (texts, contents, etc.), sometimes even without IT competence.
On the other hand, the interface may be changed and customized depending on the visual identity of the hospital but also depending on the patients (age, language, service, pathology, …)